The issue is not to know the roads! If you do not plan the operation, you lose time and money.
logvrp is not a vehicle tracking system, not a GPS, not a navigation system, etc.! logvrp is a web application that plans your fleet routes for your delivery, distribution, pick up and/or collection business, such that your costs become minimum.
logvrp helps organizations, companies to profit on logistics activities, minimize transportation costs and save on gas. It is used for finding optimum fleet routes, route optimization, fleet route planning, delivery route planning, pickup route planning and fleet management.
logvrp - the route planner and optimization software
logvrp is a multiple stop, multiple destination, multiple location route planner. logvrp provides efficient routing optimization for transportation logistics. It calculates cheapest, shortest, optimum routes and shows the routes on map for a given set of locations, fleet to serve delivery / pickup orders, customer requests in time.
Using logvrp, planning a route is easy and fast. Easily, quickly plan alternative routes on google map with the highly interactive and user friendly interface of logvrp. logvrp gives and exports turn by turn truck route directions, google route map, step by step delivery / pickup jobs for each vehicle route and many more details. logvrp has lots of unique ideas and features for effective route optimization and transportation planning. Click here to learn about features of logvrp - the route planner.
Moreover, logvrp, the route planning software, is a green logistics technology. Because, it helps you reduce mileages and save on gas which make your fleet output lower emissions.
Integration and Expansion
logvrp can be integrated with other information systems.
logvrp's Web Servis API can be integrated with other information systems easily, such as Enterprise Resource Planning (ERP) and Vehicle Tracking System.
In this way, it is possible to integrate logvrp to existing IT investments.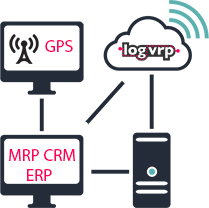 Featured
logvrp is one of the first cloud software built in Turkey.
It is one of the first web based SaaS (Software as a Service) route planner.
logvrp is one of the world's first web and Google Maps based application for VRP (ie. for solving "vehicle routing problem").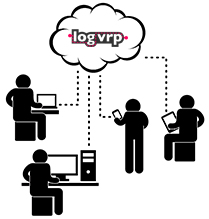 Sectors for logvrp - the route planner
logvrp is well suited for every organization, company or business that deals or has relation with logistics activities. Moreover, research institutes which do research on vehicle routing, operations research, optimization can also benefit from logvrp.
Food / beverage carriage services & distributors
Courier Services
Delivery Services
Cargo & shipment companies
Passenger freight services
Personnel / Employee Transportaion Services
School Bus Services
Pharmaceutical warehouses
Sales & service teams

Technical services, repair and maintenance teams
Online stores & warehouses
Magazine distributors
Transportation companies
Telecommunications industry
Municipalities, environmental and waste management firms
Post offices
Healthcare services
Or any organization serving customers/people with products, goods or services with a fleet. For more details, you can click here for help page of logvrp - the route planner.
Uniqueness of logvrp - the route planner
logvrp is a "software as a service" web application, which incorporates new, revolutionary ideas to meet today's business requirements of vehicle route optimization and planning. Its name is referring to Logistics Vehicle Route Planner.
All the ideas behind logvrp has been introduced in 2008 and presented in the "23rd EURO Conference on OR 2009" in Bonn, Germany with the title Web and GIS based computational solution to vehicle routing problems. logvrp ideas and realization come from NetAkıl
The business model of logvrp will make commercial users and organizations profit more by providing more solution alternatives. It will also contribute to the evolution of OR and optimization theory in vehicle routing.
logvrp is built on latest technologies, proven architectures and frameworks. SOA is a major component of this solid infrastructure, which makes logvrp, not only an application but also a web service API for other software systems.
logvrp is the first step towards a complete logistics framework. In future, it is planned to produce the other components of this complete logistics framework. These are vehicle tracking, operation management, supply chain management, warehouse management, decision and strategic planning products.
logvrp will be evolving with your valuable feedbacks. Please join logvrp feedback and survey after registration.
Do not hesitate to contact us at: info@logvrp.com.

logvrp is a trademark of the company NetAkıl